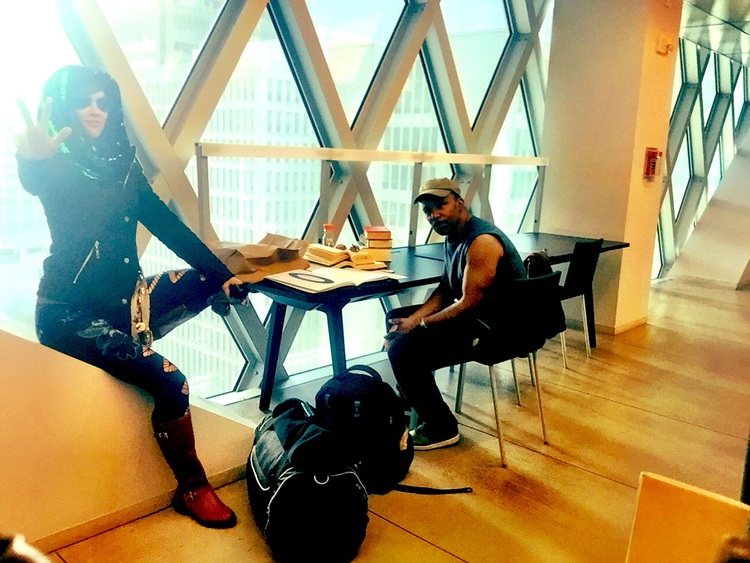 Daily RaKa Life Selfie
Here is my daily RaKa Selfie
//inner thoughts,
This RaKa Selfie was taken yesterday @ the Seattle Public Library. I was "randomly" walking through the beautiful architecture doing field research for my project High Tech Army, Inc. and I noticed this man. William J. He was surrounded by stacks of books and journals. I could immediately sense his protectiveness around this work and felt compelled to know him. I took off my headphones and in superhero pose style asked what he was studying. He responded in the same way I knew he would, cold and guarded. He said, 'why do you want to know' I replied, 'because you look interesting, like someone I need to know'. He was startled by my answer. He said, 'please look at this' and pulled out a large notebook of clear plastic sleeves, what appeared to be his writing. He asked me to read his poem, The Creative Man. My eyes immediately filled with tears. What was this individual, who is missing an eye, about to teach me.
His poem was about Martin Luther King, Jr and how collectively our human race must creatively use that energy in the now to make continuous positive change. SYNCHRONICITY!
After my eyes cleared from tears and my heart rate slowed from the synchronicity.... I looked at William and gave him the biggest heart to heart acknowledgement. His eyes started tearing and I could sense how deeply he was lacking someone to see him, truly see him. After his eyes dried he shared his story with me.
Apparently William had this poem published weeks after Martin Luther King, Jr. passed. He continued to charm and amaze me with spoken poetry. His gift was evident and I declared this to him. He went on to tell me his story of falling on hard times and his struggles with depression/homelessness. His goal was to publish his work. His goal was to get back on his feet. His words showed me cares about autonomy. He stated his goal to find someone to help him find a publisher.
I immediately told him to come to my office the next day, gave him instructions on address, time, date, phone number, email address. I spoke my intention to help him and to please use me as a resource to help him back on his hero journey. He thanked me, and stated there is answer to prayer. Timing had the library close on us and as he was packing up I looked him in his single eye and made him promise to come see me. Will looked at me with tears streaming down his face and said, 'yes'.
I didn't see William today. I wonder if he will show up today or if I'm going to have to track him down. I pray he was safe and warm last night. I pray that the world will help him restore and repair his life. I pray he felt how deeply he touched my life. I pray he reaches all of his goals. I pray my life will be a blessing to his. I pray the earth kiss his footsteps as he walks and holds him through space and time with finesse. He is a man of great integrity and being homeless doesn't make him any less of a beautiful human even though that is how he has been treated. I am so honored and blessed to have met William Jones. His poetry has touched my life forever. His ripples of energy have affected mine.
Reminder:
Show someone who is homeless a little face time, see them, notice individuals who are on hard times and I guarantee the butterfly effect will be felt around the Planet.
Smile, Grow, & Self-actualize (It's more important than physical food for it's the food of the Spirit)